Database Statistics
Men
Women
Total
Players:
8345
6073
14418
Tournaments:
1523
1098
2621
Search other dates...
Find us on Facebook for more news
Latest News and Feature Articles
12/3/2013
And the countdown begins to the Durban Open
Durban, South Africa, December 3, 2013 – With the onset of December, there is now a little more than a week left until the Durban Open, scheduled to take place in the South African city from December 11 to 15.
Read more from fivb.org
12/1/2013
Mexico, USA top 2013 beach volleyball rankings
MARACAS BAY, Trinidad, December 1, 2013 - The Mexico Volleyball Federation and USA Volleyball Federation secured the USD 5,000 winners' checks after their men and women teams ended as the top ranked teams at the end of the 11th and final stage of the 2013 NORCECA Beach Volleyball Circuit.
Read more from norceca.net
Broder, Valjas take second title to end season
MARACAS BAY, TRINIDAD, DECEMBER 1, 2013: Jamie Broder and Kristina Valjas (CAN-A) closed out the season just as they started the season in Cayman Islands by capturing the gold medal in the 11th and final leg of the NORCECA Beach Volleyball Circuit by battling past Heather Hughes and Lane Carico (USA-A).
Read more from norceca.net
View the News Archive...
Special Links

FIVB Beach Volleyball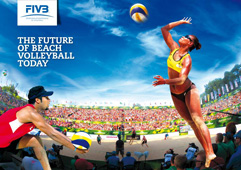 Beach Volleyball Slideshow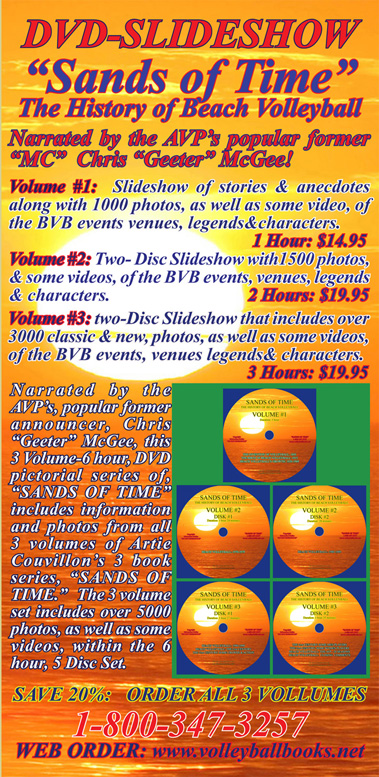 Adapted from Artie Couvillon's three book series:
"Sands of Time" The History of Beach Volleyball
Narrated by the popular former AVP Announcer Chris "Geeter" McGee
Get your copy today at www.volleyballbooks.net