Database Statistics
Men
Women
Total
Players:
8394
6116
14510
Tournaments:
1525
1100
2625
Search other dates...
Find us on Facebook for more news
Latest News and Feature Articles
4/14/2014
Organisers of Moscow Grand Slam unveil plans for memorable 2014 edition
Moscow, Russia, April 15, 2014. The premises of FORWARD, the official technical sponsor of the 2014 FIVB Grand Slam in Moscow, played host on Monday to a press conference that was devoted to the upcoming start of the international season as well as to this year's edition of the FIVB event in the Russian capital.
Read more from cev.lu
4/9/2014
Brazil confirms Grand Slam event in September
Lausanne, Switzerland, April 9, 2014 – The Brazil Volleyball Federation (CBV) has confirmed that it will hold a Grand Slam event from September 23 to 28, one of ten double gender Grand Slam events on the cards for the 2014 Beach Volleyball season.
Read more from fivb.org
4/7/2014
One million dollars in prize money up for grabs at Transavia and Long Beach Grand Slams
Lausanne, Switzerland, April 7, 2014 – This year's Long Beach and Transavia Grand Slams just got more interesting with the historic announcement that the two events will carry a pot of $1 million in prize money.
Read more from fivb.org
4/5/2014
Baden gets ready for another Beach Volleyball party
Baden, Austria, April 5, 2014. The 2014 CEV Beach Volleyball European Championship will get started in late May with the Baden Masters presented by SPORT.LAND.NÖ. This will be the tenth time an international competition is held at the Strandbad and yet again a good share of the continental elite will showcase their skills from May 28 to June 1.
Read more from cev.lu
View the News Archive...
Special Links

FIVB Beach Volleyball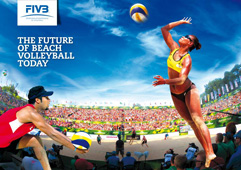 Beach Volleyball Slideshow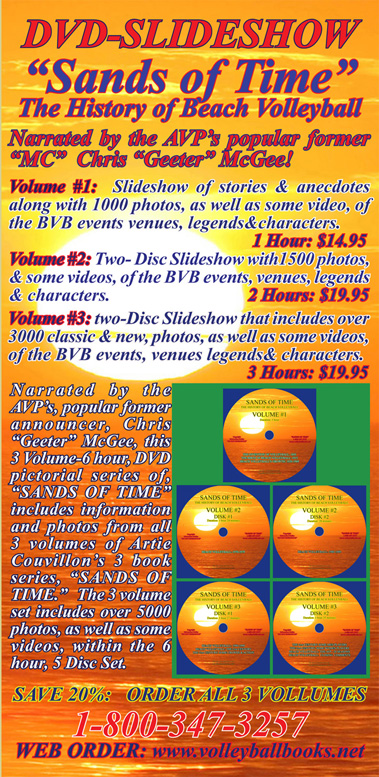 Adapted from Artie Couvillon's three book series:
"Sands of Time" The History of Beach Volleyball
Narrated by the popular former AVP Announcer Chris "Geeter" McGee
Get your copy today at www.volleyballbooks.net
Upcoming Tournaments
Dates
Tour
Tournament
Gender
Purse
Apr 22-26
FIVB
Fuzhou Open, China
M
US$75,000
Apr 23-27
FIVB
Fuzhou Open, China
W
US$75,000
Apr 25-27
NORCECA
Norceca Beach Volleyball Circuit Cayman Islands, TBD
M&W
TBD
Apr 29-May 3
FIVB
Shanghai Jinshan Grand Slam, China
M
US$400,000
Apr 30-May 4
FIVB
Shanghai Jinshan Grand Slam, China
W
US$400,000
May 2-4
NORCECA
Norceca Beach Volleyball Circuit Guatemala City
M&W
TBD
May 6-10
CEV C&S
2014 CEV Beach Volleyball Satellite Antalya, Turkey
M
€ 7,500
May 6-10
CEV C&S
2014 CEV Beach Volleyball Satellite Antalya, Turkey
W
€ 7,500
May 6-10
FIVB
Puerto Vallarta Open, Mexico
M
US$75,000
May 7-11
FIVB
Puerto Vallarta Open, Mexico
W
US$75,000
May 9-11
NORCECA
Norceca Beach Volleyball Circuit Antigua, Guatemala
M&W
TBD