Database Statistics
Men
Women
Total
Players:
8888
6498
15386
Tournaments:
1579
1153
2732
Search other dates...
Find us on Facebook for more news
Latest News and Feature Articles
10/22/2014
NVL ANNOUNCES 2014 PLAYER AWARD WINNERS
At the 2014 Players Championships, NVL pros were asked to nominate their fellow players in the following categories for the 2014 season: MVP, Best Offensive Player, Best Defensive Player, Breakthrough Athlete, Most Improved Player, Rookie of the Year, Best Upset of the Year, NVL Appreciation and Best Role Model. NVL would like to congratulate the following pros:
Read more from TheNVL.com
10/17/2014
Parana launches next stop on World Tour
Buenos Aires, Argentina, October 17, 2014 – The Argentine city of Parana officially launched the sixth Open of the FIVB Beach Volleyball World Tour 2014 at the National Tourism Ministry headquarters last Thursday.
Read more from fivb.org
Beach Volleyball Commission maps out road ahead
Lausanne, Switzerland, October 17, 2014 - The FIVB Beach Volleyball Commission discussed key proposals for the future of the sport in a two-day meeting at the headquarters of the International Volleyball Federation in Lausanne on Wednesday and Thursday. Forty participants including representatives from the five continental confederations were in attendance.
Read more from fivb.org
10/15/2014
TALKIN' STATS: 2014 FIVB Beach Volleyball World Tour—Oct. 15
Lausanne, Switzerland, October 15, 2014 — With a two week break to savor the flavor, the Fédération Internationale de Volleyball (FIVB) pauses to look back on some of the significant stats from last week's double-gender US$150,000 FIVB Xiamen Open in China.
Read more from fivb.org
View the News Archive...
Special Links

FIVB Beach Volleyball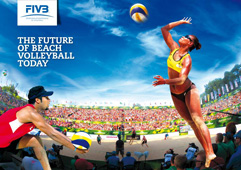 Beach Volleyball Slideshow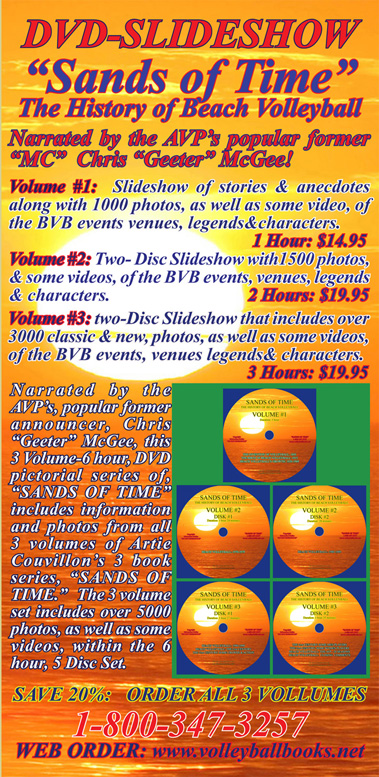 Adapted from Artie Couvillon's three book series:
"Sands of Time" The History of Beach Volleyball
Narrated by the popular former AVP Announcer Chris "Geeter" McGee
Get your copy today at www.volleyballbooks.net
Upcoming Tournaments
Dates
Tour
Tournament
Gender
Purse
Oct 28-Nov 1
FIVB
Parana Open, Argentina
W
US$75,000
Oct 29-Nov 2
FIVB
Parana Open, Argentina
M
US$75,000
Nov 4-8
FIVB
Qatar Open, Doha
M
US$75,000
Nov 5-9
FIVB C&S
Pattaya Challenger, Thailand
W
US$50,000
Nov 14-16
NORCECA
Norceca Beach Volleyball Circuit Trinidad and Tobago, TBD
M&W
US$16,000
Nov 25-30
FIVB
Chennai Open, India
M
US$75,000
Nov 25-30
FIVB
Chennai Open, India
W
US$75,000
Dec 9-14
FIVB
Mangaung Open, South Africa
M
US$75,000
Dec 9-14
FIVB
Mangaung Open, South Africa
W
US$75,000
End of 2014 Season