Database Statistics
Men
Women
Total
Players:
8924
6527
15451
Tournaments:
1584
1158
2742
Search other dates...
Find us on Facebook for more news
Latest News and Feature Articles
3/25/2015
AVP Pro Beach Volleyball Tour announces 2015 schedule
COSTA MESA, Calif. (March 25, 2015) – The Association of Volleyball Professionals (AVP), the premiere domestic professional beach volleyball tour in the U.S., today officially announced its 2015 schedule, adding tournaments in four new cities to its seven-event nationwide tour taking place from May through September.
Read more from avp.com
2015 Beach Volleyball World Tour Media Guide available now
Lausanne, Switzerland, March 25, 2015 - The 2015 edition of the FIVB Beach Volleyball World Tour Media Guide looks ahead to an exciting new season, which will features an FIVB record $9.2 million in prize money, five Grand Slam events, an innovative four-event FIVB Major Series, six FIVB Open events, the inaugural FIVB World Tour Finals in the United States and the 2015 FIVB Beach Volleyball World Championships to be held in four cities in the Netherlands.
Read more from fivb.org
3/24/2015
Player Profile: Kerri Walsh Jennings
The Hague, Netherlands, March 24, 2015 - Multiple world and Olympic champion Kerri Walsh Jennings and partner April Ross will be one of the teams to beat at the FIVB Beach Volleyball World Championships The Netherlands 2015 from June 26 to July 5. In the run-up to this summer's event, Walsh Jennings speaks about what inspires her to keep working on her game.
Read more from fivb.org
3/21/2015
TOP SEEDS DAVE PALM & MIKE PLACEK AND BROOKE NILES & KAROLINA SOWALA TAKE HOME WINS AT NVL'S SEASON OPENER IN PANAMA CITY BEACH
PANAMA CITY BEACH, Fla. (March 21, 2015) – The National Volleyball League (NVL) opened the 2015 Pro Beach Tour in Panama City Beach, Fla. this week with Americans Dave Palm and Mike Placek earning the men's title, and Brooke Niles (USA) and Karolina Sowala (PL) crowned the women's champions. This is the first tournament both teams have played together professionally.
Read more from TheNVL.com
View the News Archive...
Special Links

FIVB Beach Volleyball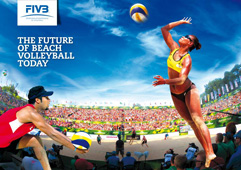 Beach Volleyball Slideshow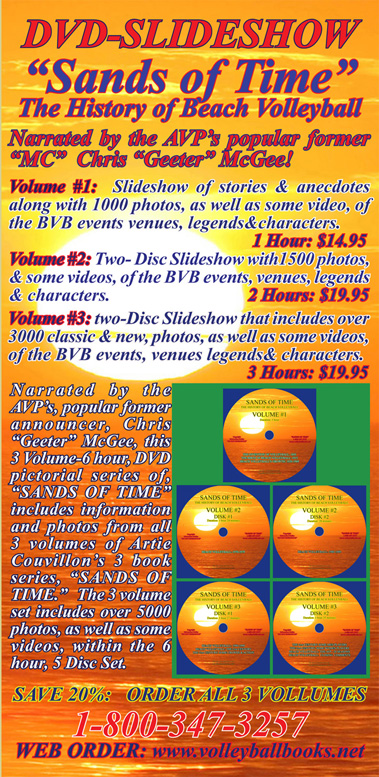 Adapted from Artie Couvillon's three book series:
"Sands of Time" The History of Beach Volleyball
Narrated by the popular former AVP Announcer Chris "Geeter" McGee
Get your copy today at www.volleyballbooks.net
Upcoming Tournaments
Dates
Tour
Tournament
Gender
Purse
Apr 21-25
FIVB
Fuzhou Open, China
M
US$75,000
Apr 22-26
FIVB
Fuzhou Open, China
W
US$75,000
Apr 24-26
NORCECA
Norceca Beach Volleyball Circuit Cayman Islands, Grand Cayman
M&W
TBD
Apr 24-26
NVL
Madeira Beach Championships
M&W
$50,000
May 12-17
FIVB
Lucerne Open, Switzerland
W
US$75,000
May 13-17
FIVB
Lucerne Open, Switzerland
M
US$75,000
May 20-24
CEV
2015 CEV Beach Volleyball European Jurmala Masters, Latvia
M
€ 25,000
May 20-24
FIVB
Prague Open, Czech Republic
W
US$75,000
May 21-24
AVP
AVP New Orleans Open
M&W
TBD
May 26-31
FIVB
Moscow Grand Slam, Russia
M
US$400,000